G R I M E S: I don't want to have to compromise my... →
actuallygrimes: i dont want my words to be taken out of context i dont want to be infantilized because i refuse to be sexualized i dont want to be molested at shows or on the street by people who perceive me as an object that exists for their personal satisfaction i dont want to live in a world where…
El Perro Del Mar is nominated for the Swedish Grammy Award in the categories: - Best Album, - Best Pop and - Best Producer. The award show will take place in Stockholm on the 20th of February.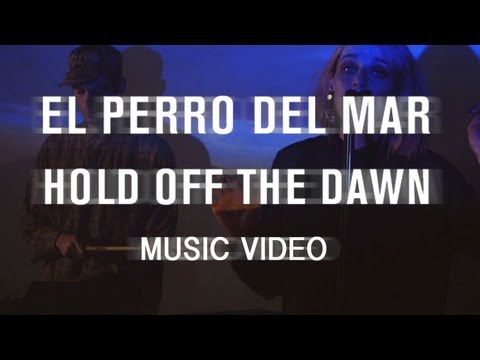 El Perro Del Mar performed at the charity show MUSIKHJÄLPEN in Malmö this morning. This year's theme of the show is to help raising money for the supply of fresh water for children living in the slums. Watch EPDM performing WALK ON BY. xx EPDM
Hey y'all, this is a great day for you! 'Pale Fire' is being pre-streamed at Hype Machine as we speak! xx EPDM
I'm happy to present(via NPR) what is the 2nd single from 'Pale Fire' - it's called 'Hold Off The Dawn' and it was initially inspired by the Apache leader Geronimo who was believed to have numerous special powers, one of which was being able to hold off the dawn. You know the feeling when you're with the one you love. When you wished you had the power to...
'Perhaps in the back of our minds we already understand, without all the science I've discussed, that something terribly wrong is happening. Our sustenance now comes from misery. We know that if someone offers to show us a film on how our m eat is produced, it will be a horror film. We perhaps know more than we care to admit, keeping it down in the dark places of our memory -...
Saint Etienne has made a remix of my 'Walk On By'. It's lovely! Hear it here! x EPDM
'WALK ON BY' First release from my upcoming album PALE FIRE So, today you finally got to hear a piece of the album. I hope you like it. I see it as an hommage to the songs I loved in the early 90's. The album version, which you will hear in November, holds more in store for you. So look out for it then! Until then, keep your heads up! love, EPDM
STEP OFF THE BEATEN TRACK El Perro Del Mar Way Out West Thursday 9th, 23.30, Trädgårn
EL PERRO DEL MAR / SUMMER / 2012: El Perro Del Mar is happy to announce two shows in Portugal this summer. This means that if you happen to catch her on any of these occasions you will be the first to hear songs from the new album Pale Fire! The dates are: July 20th - Lux Frágil - Lisboa, PT July 21th - Milhoes de Festa - Barcelos, PT xx EPDM
So, my little introduction to Pale Fire is out there with you. The video for 'Innocence Is Sense' was directed and filmed by the amazing Boe Marion. The song is also available on soundcloud. Get it while you can! x EPDM
PALE FIRE starts June 18th on elperrodelmar.com! x EPDM
The wait has been long. I know. But there's a light at the end of the tunnel. That tunnel's been crossed on June 18th. Keep your eyes and ears open then. x EPDM
El Perro Del Mar + Way Out West 2012 = true PALE FIRE IGNITES ON AUGUST 9TH (for more details visit wayoutwest.se)
El Perro Del Mar ON SALE! All 3 El Perro Del Mar albums are on sale for $7.99 this week at iTunes US! If you haven't yet, get them now, while waiting for no. 4.
Silencing The Song If you haven't yet seen the documentary 'Silencing The Song - An Afghan Fallen Star', make sure you do. It's a follow up on 'Afghan Star' - the amazing documentary from 2009 about the first talent competition to be aired in Afghanistan. 'Silencing The Song' catches up with Setara, the singer who stirred much controversy after...
WHAT YOU DO COMES BACK TO YOU HANDSWORTH SONGS /El Perro Del Mar
El Perro Del Mar new tumblr + new music Around the time of the riots flaring across the UK, I was wrapped up in work on an album which in many ways is about living in a time where there's little hope, little future and what times like these do to people. I felt I needed to say something about the incidents since I feel they speak volumes not only of one society in specific but about the...